VCE Exam Simulator for Mac
An exam engine for certification exam preparation. Take exams that are just like the real thing.
Realistic exam simulation
Whole exam in a single file
Customizable exam taking mode
Detailed score reports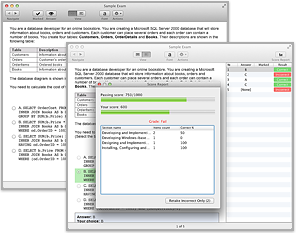 Version:
1.8
What's New
Updated:
Aug 13, 2015
Operating Systems:
OS X 10.8 or later
Click to download:
What is VCE Player?
VCE Player is a test engine designed specifically for certification exam preparation. It allows you to take practice tests in an environment very similar to an actual exam.
VCE Player

organizes the exams created in VCE Designer and presents them to the exam taker. The VCE Player interface functions is a realistic simulation of the actual certification exam.
To learn more about VCE Player, please look at the screenshots.
What's New
v1.8 (Aug 13, 2015)

Stability:
Fixed: the problem with switching between questions in the training mode.